#BIMForFree Storify
22/11/2012 Ramboll, London hosted a free BIM event which was planned and organised throughTwitter via @NigelPDavies & @StewartGH1970. As usual, a lot of the attendees were posting updates and information from the event on Twitter. I decided to gather all these together using Storify. The following image is a snippet from the 'Storify story'. Click on the image to read the full article.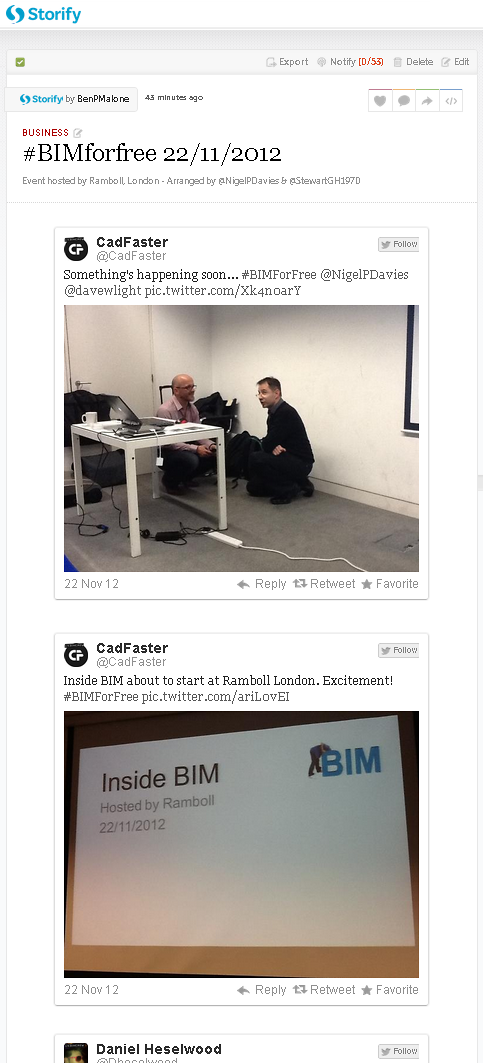 Storify link – #BIMForFree 22/11/2012
Tags: BIM event, storify, ukbimcrew
About Ben Malone
Information Manager for BIM.Technologies in London
BIMopedia brings you the latest news and reviews from the BIM world. Check out BIM Diary for all upcoming events and webinars. You will find the latest BIM standards and protocols under BIM Documents.
BIMopedia
BIM Diary
How to Deliver COBie, Ifc & Classification for Revit

April 24, 2018 at 9:00 AM – 5:00 PM

Glasgow, Scotland, UK

More info and registration: Click here

The Dark Side of BIM

April 25, 2018 at 5:30 PM – 8:00 PM

London

More info and registration: Click here

BIM4Legal

April 26, 2018 at 5:30 PM – 8:00 PM

London

More info and registration: Click here
Blog calendar