Tag Archive | Cloud
Like it or not, as a technology professional, the cloud WILL become part of our every day work in the near future – if it's not already! Many applications which you currently use may already use cloud technology without you even realising it. Security issues are of course a big concern when moving forward with tecnolgoy and into new ways of working. There are many questions that need to be answered in order to make the cloud user feel like their sensitive data is secure.
Autodesk 360 is a completely cloud based service – offering many tools for use in the AEC industry. The huge advantage of the cloud is the speed and efficiency. Instead of using your own PC for intensive tasks such as rendering and interactive energy analysis, you are able to utilise the massive power of the Autodesk cloud servers and computers. This will not only be a faster process, but also leave the computer your working on free for use on other activities.
Autodesk have released a document which was discussed on the 'Introduction to Autodesk BIM 360 webinar' earlier today, which was recorded and will be released publicly, next week (week 5). In this document 'Autodesk 360: Work Wherever You Are – Safely', it discusses the security technologies that are employed on the Autodesk cloud servers as well as suggesting that the cloud is a SAFER way to transfer and share files than the traditional methods we are used to: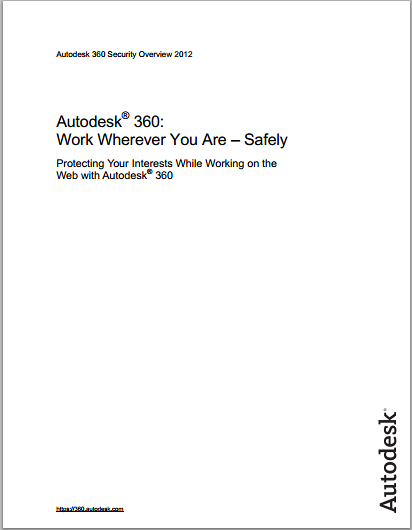 There"s trust in being close. Many people associate their local workstation"s or PC"s content as safer than their files on the Internet. This isn"t always the case. Often computers are susceptible to security risk because their files aren"t fully protected against unauthorized access and intrusion. Furthermore, as files are transferred across the networks, they can become compromised if not done so in a secure manner. With Autodesk 360
The platform is built on a reliable, protected technology infrastructure specifically built just for cloud computing. 
You control who has access to your data, when you share it, and who you share it with.
You can access it from anywhere through an Internet connection after providing your login ID and password securely.
The services are designed to protect data and authentication in transit.
For more information, read the full .pdf document on the Autodesk website HERE or by clicking the image above.
If you haven't already been using it, the Autodesk cloud rendering service is a must have for all Revit enthusiasts. I will run through how the process works below. The first thing you need to do is check that you have update 2 for your Revit installation. If not, you can download them from the links below:
  Autodesk_Revit_Architecture_2012-x86_Update-2 (exe – 250 MB)
  Autodesk_Revit_Architecture_2012-x64_Update-2 (exe – 280 MB)
Now, your Revit is up to date, and just about ready to begin using the cloud rendering service. With the new updates installed you will notice a new tab in your Revit ribbon called "Online" as seen in the image below. Make sure you are signed in to the Autodesk network via Revit.

It's as simple as that! You're Revit is now set up to allow you to render your model in the cloud, saving lots of time, producing a better result and allowing you to continue working on your computer while it is being processed. Now it is your turn to find the specific view that you want to be rendered. Once you have either saved the view, or have a current view active, you are ready to start selecting some render options. (Remember if you are doing an internal render you must set up lighting first). 

On the above image, which is a basic rendering options dialogue, you can select your preferences for your render. From this dialogue, you can select which view you want rendered, whether you want it to be a still image or a 360 panorama, image quality, image size and finally file format. Once you have your desired prefences inputted, click "Start Rendering" sit back, and wait for an email from Autodesk confirming that your image has been succesfully rendered.


Now you've received your notification from Autodesk, follow the link in the email to access your personal online rendering gallery. In this gallery there will be a list of all the renderings you have produced through the cloud service. You will also be able to access project information such as name and date of creation. Once you have clicked on your newest project / renderings you will be able to download the image as in full size, render with new settings, delete the image, adjust the exposure and more. Below is a small example of the above rendering. A 2.1MB, 1500×1224 pixels, .PNG, Best quality image took less than 4 minutes to render and upload onlne to your gallery. Pretty impressive!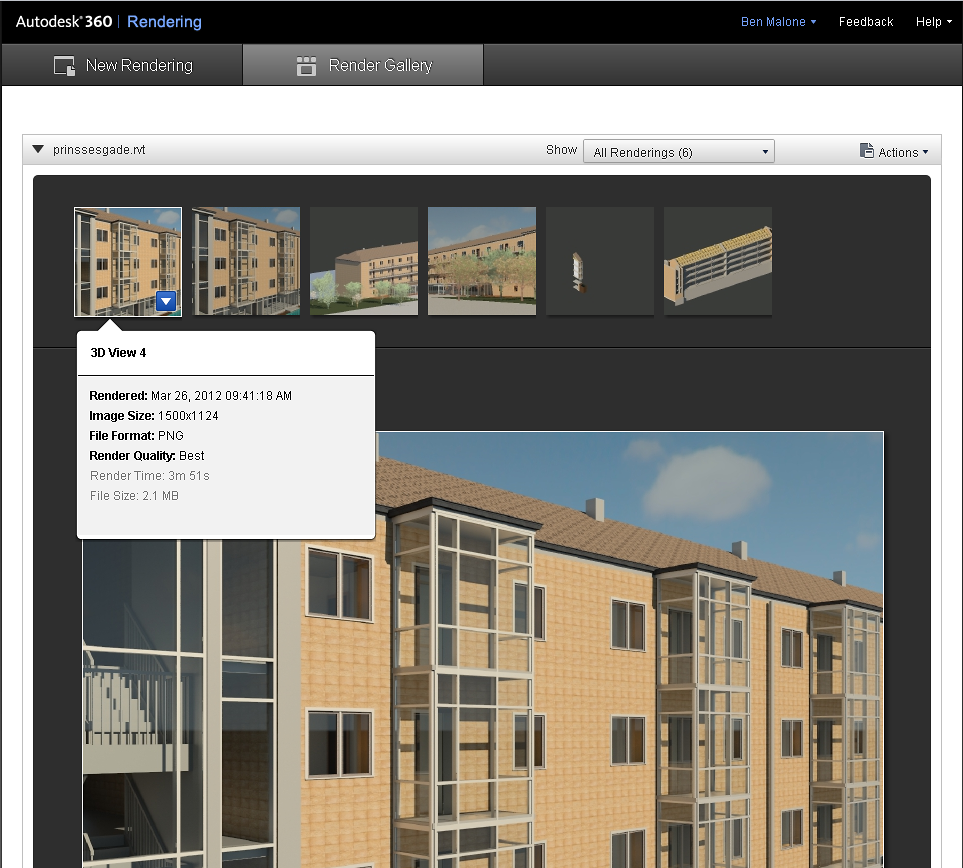 So we've all heard of programs like Dropbox etc but a new name on the market Bitcasa has opened its beta test to a select group of people. Anyone can sign up to join the beta although there is a waiting list. Click here to sign up today! With almost 8 exabytes or 8 million terabytes to you or me, you will never run out of hard drive space again! Bitcassa, like dropbox also allows shared folders which would be suitable for collaboration on large projects and sharing files. 
Founded in 2011 by former employees of Mastercard, VeriSign and Mozy, Bitcasa offers infinite storage paired with best in class security via client-side encryption. Bitcasa's commitment to data security and reliability means that you will never need to worry about your important files, photos or other digital content. No matter if your computer is stolen or your computer crashes, your data is secure with Bitcasa.
Infinite Storage On Your Desktop
Bitcasa makes your desktop infinite. No more worries about whether your local hard drive is full or having to upgrade your cloud plan. You've got all the space you could ever use.
Data Storage Should Be Smarter
Keeping your data on your laptop or desktop is risky because they are prone to fail. That's why Bitcasa brings the cloud to your desktop. Since all files are encrypted your data is safe from everyone—even us.
No More Syncing And Copying
Bitcasa is your new hard drive. Anywhere you go. You don't need to copy files onto another drive, you keep them on the Bitcasa drive.
Sharing
Want to share a photo album? You can instantly share any of your folders in Bitcasa to friends or family.
Want to share a large file with a colleague? Sharing of any size file is completely free with Bitcasa.
Your Data Is Secure
Bitcasa encrypts your data before it is sent to the cloud. It is actually impossible for Bitcasa to access any of your data for any reason.